| | |
| --- | --- |
| Posted by kirxander on October 31, 2016 at 9:45 AM | |
Throughout the Bible, we're told we need to be transformed. That we need to change our lives. We read verses like the following:
Ephesians 4:22-24 (NCV)
22 You were taught to leave your old self—to stop living the evil way you lived before. That old self becomes worse, because people are fooled by the evil things they want to do. 23 But you were taught to be made new in your hearts, 24 to become a new person. That new person is made to be like God—made to be truly good and holy
Matthew 5:16 (NCV)
16 In the same way, you should be a light for other people. Live so that they will see the good things you do and will praise your Father in heaven
But sometimes we struggle with how to actually accomplish that. What we often forget, is that God plays a part in our transformation.
Philippians 2:12-13 (NCV)
12 My dear friends, you have always obeyed God when I was with you. It is even more important that you obey now while I am away from you. Keep on working to complete your salvation with fear and trembling, 13 because God is working in you to help you want to do and be able to do what pleases him.
Philippians 1:6 (NCV)
God began doing a good work in you, and I am sure he will continue it until it is finished when Jesus Christ comes again.
We sometimes don't get this concept. But this great illustration Liz found shows that sometimes it takes a different perspective to understand God's Word.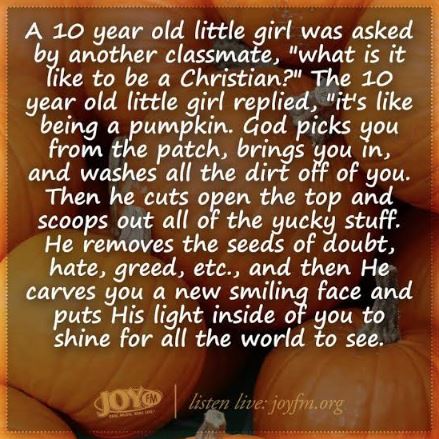 Let's remember to do our part in transforming ourselves, but also allow God to do His part.
God Bless!
Categories: General, Inspirational